Hitting the Trails in the Texas Hill Country
Hitting the Trails in The
Texas Hill Country

Jasmine Alley
Originally from Maryland, Jasmine Alley is a Dallas-based travel blogger with a passion for finding beauty wherever she goes. She and her husband have turned travel blogging into their full-time jobs, and while they love exploring globally, Texas always has a piece of their hearts.
If you've never explored the Texas Hill Country, you're missing out on a true Texas gem. The Hill Country, stretching west from Austin and north of San Antonio, is filled with some of the prettiest sights, charming towns, and best activities that Texas has to offer. My husband, Harrison, and I explored seven towns in five days on the Texas Hill Country Trail. We were constantly amazed, impressed, and in awe. Need inspiration for your own Texas Hill Country adventure? We've got you covered:
New Braunfels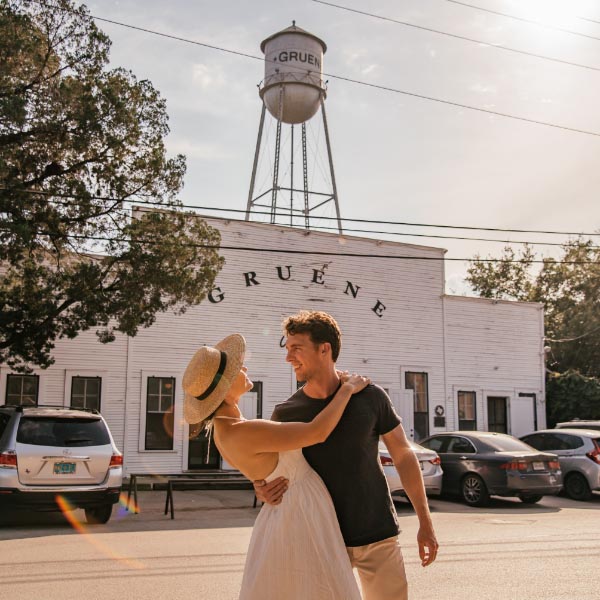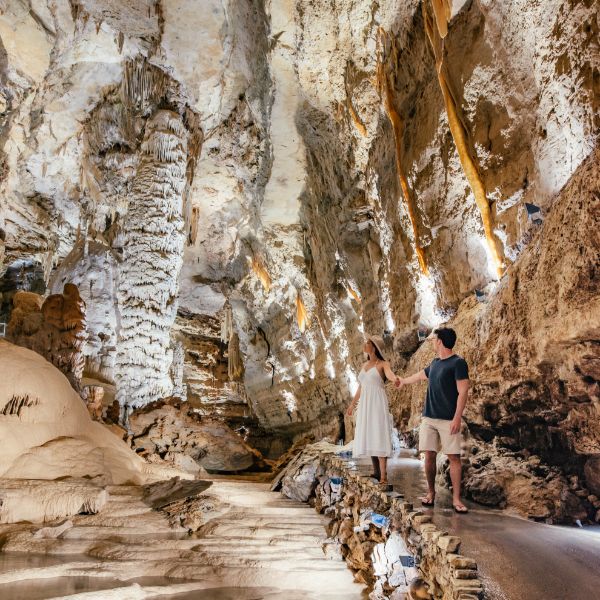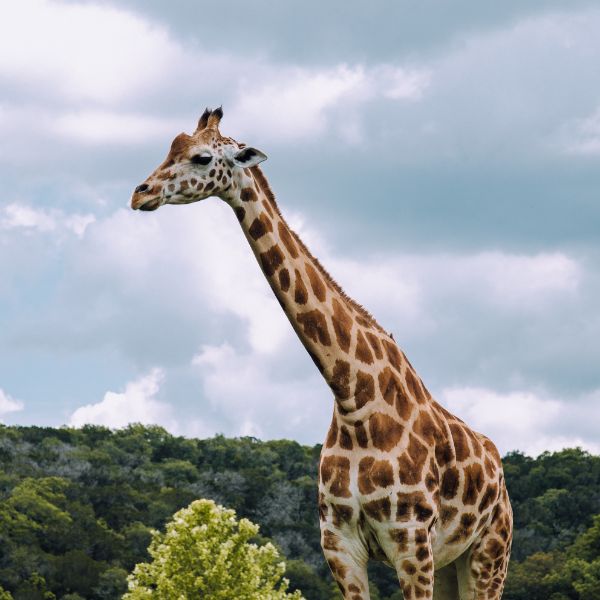 We started off our trip in New Braunfels, where I discovered the never-ending charms of the Gruene Historic District. We stayed at the Gruene Mansion Inn, which is right next to the famous Gruene Hall, Texas's oldest continually operated dance hall. There are so many shops and restaurants in this area, and most of it is within walking distance. We took advantage of our hotel's proximity and had dinner at the Gristmill River Restaurant & Bar, a "true Texas experience" that offers up sizzling flavors and a river view.
You can also get a nature fix in New Braunfels, and it's safe to say you'll go "wild" for the attractions. At the Natural Bridge Wildlife Ranch, you'll see creatures great and small on your drive-through safari. Be sure to purchase treats at the ranch entrance, and deer, emu, zebras, and more will come right up to your car! You'll also see giraffes, and there's even a walking portion where you'll see monkeys and other smaller mammals.
Next door, we went on a one-hour tour of Natural Bridge Caverns, where we saw some mind-blowing cave formations. We finished our day out on the pristine Comal River at Hinman Island Park. Locals know it as the spot to walk right into the river to swim or to grab a tube and let your troubles float away.
Dripping Springs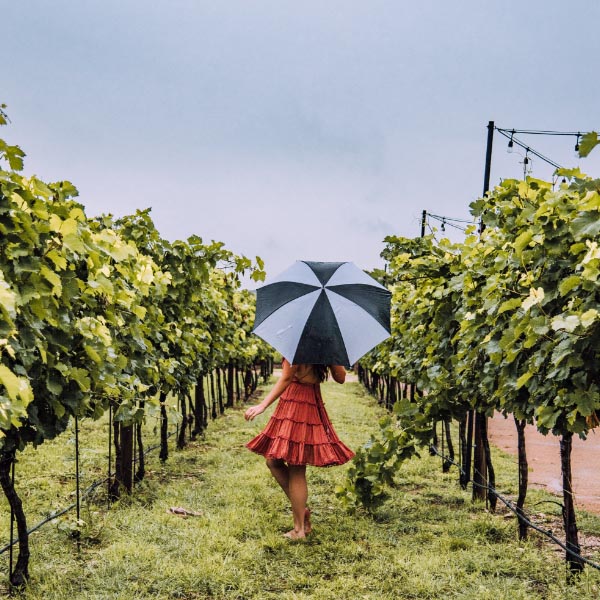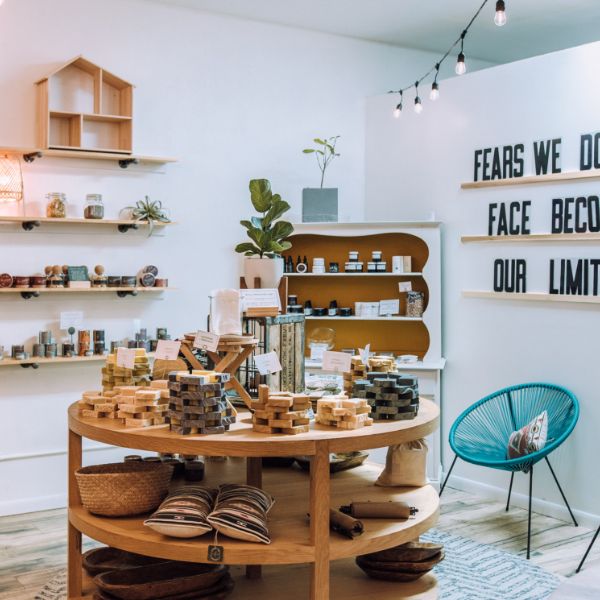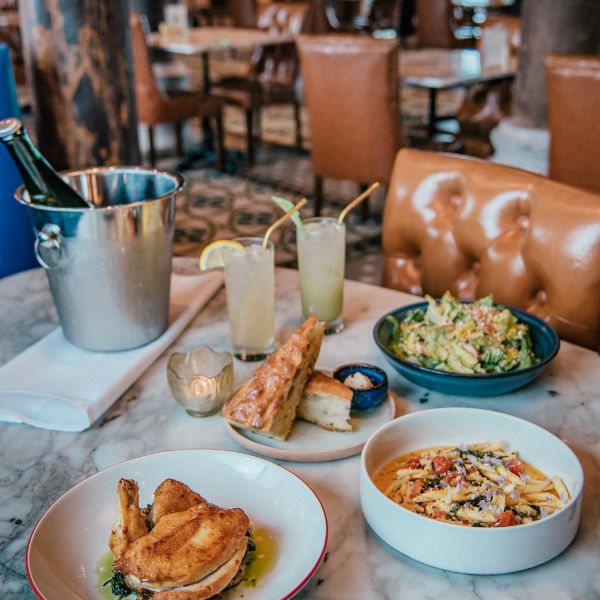 The next day we headed out to Dripping Springs, also known as the "Wedding Capital of Texas." It's easy to see why—it's home to spectacular scenery and crystal-clear natural pools. Though our attitudes were sunny, along the drive we nervously watched as the sky grew darker. By the time we got to Dripping Springs, it wasn't so much dripping—instead, we were met with a torrential downpour! It put a literal damper on our plans to visit Westcave Outdoor Discovery Center, a nature preserve that includes an incredible water hole with a 40-foot waterfall and limestone cavern. But rain or not, there's still a ton to do in Dripping Springs. We went shopping downtown (Juniper Tree Market was my favorite shop) and also visited Camp Lucy to check out the award-winning wedding venue in person. Later, we were treated to a scrumptious meal at Tillie's, where farm-to-table cuisine comes to life. We even had views of alpacas from our booth!
And while we weren't able to experience it for ourselves this time, be sure to book reservations in advance and make a plan to explore Westcave Preserve and Hamilton Pool. Despite the soggy weather today, we have visited Dripping Springs in the past and experienced its beauty before. Other favorites? Pedernales Falls State Park is home to miles of scenic trails and bubbling springs, and the Hill Country Olive Company is always worth a visit.
Fredericksburg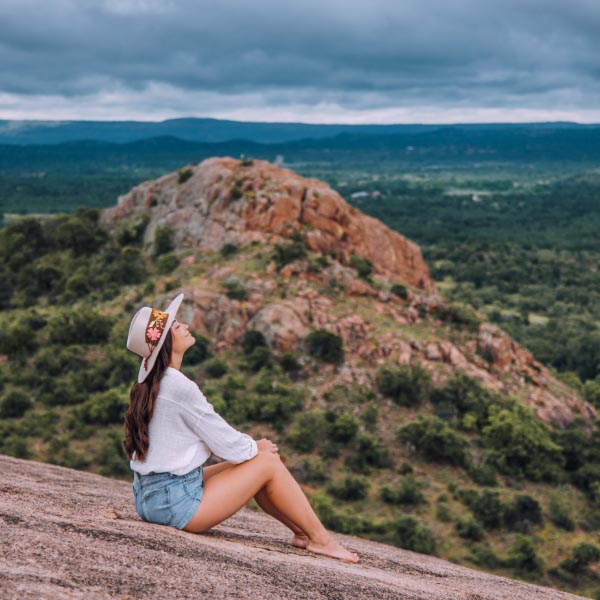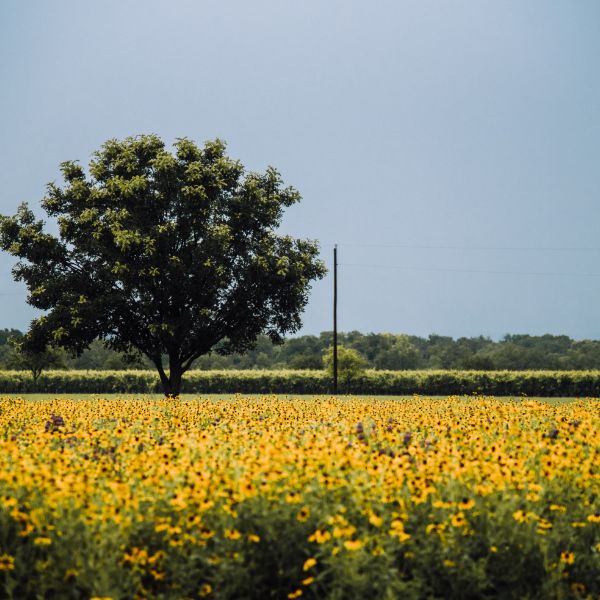 Next was a town I had visited before for its incredible wine tasting experience. There are so many fantastic Hill Country wineries in and around Fredericksburg. But this time around, we got to see a new side to Fredericksburg by visiting Enchanted Rock State Natural Area. If you want incredible views of the Texas Hill Country, this is the place to find them. The hike to the summit is only .8 miles, but part of it is a very steep incline to the top. Don't worry too much about catching your breath—the view waiting at the top is sure to take it away. Reservations are required for Enchanted Rock, so be sure to book them ahead of time.
After our hike, we had a decadent dinner at Cabernet Grill (reservations are HIGHLY recommended—it's very popular!). This nationally recognized favorite has been named one of America's 100 Best Wine Restaurants. We turned in for the night at Fredericksburg Inn & Suites, conveniently located right by the charming shops on Main Street.
Kerrville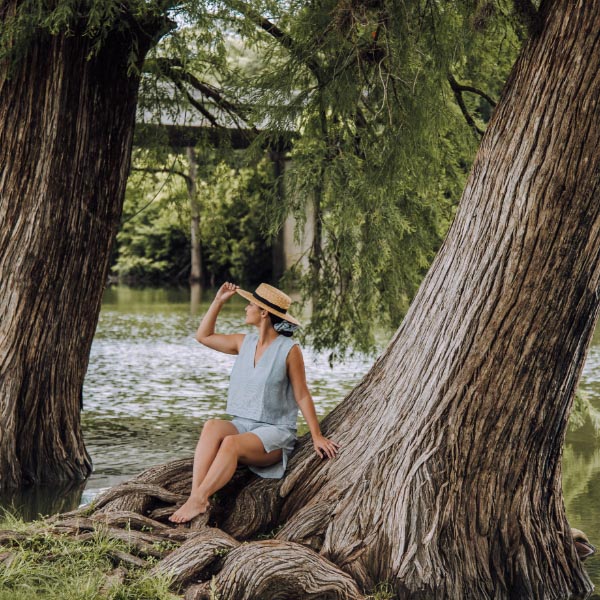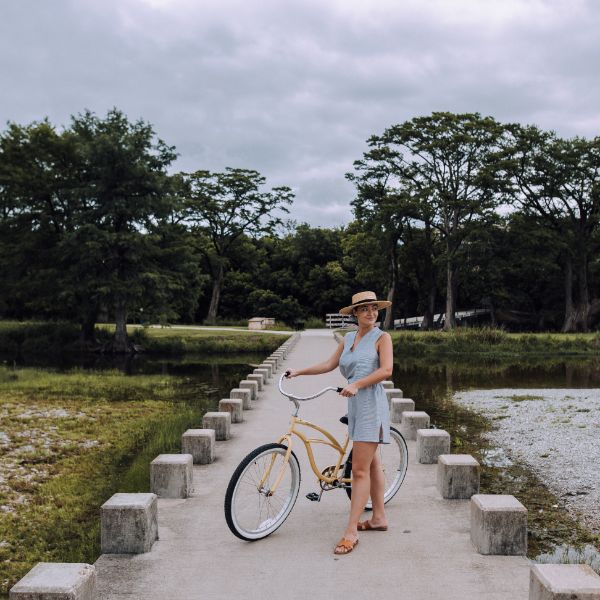 Early next morning, after a delicious breakfast at the iconic Woerner Warehouse Cafe, we drove down to Kerrville. It's a lovely town rich with natural scenic beauty and opportunities for outdoor adventure. After stopping at the Riverside Nature Center, we hopped on bicycles and peddled down the six-mile-long River Trail, cycling past wildflower meadows and the sparkling Guadalupe River. We met the friendliest people along our bike ride and got more great river views at Louise Hays Park.
Hungry from our long bike ride, we enjoyed lunch at Rails, a Cafe at the Depot, a cozy café housed in the beautifully restored 1915 Kerrville Train Depot. Then, it was time to hurry off to Boerne to make our next reservation.
Boerne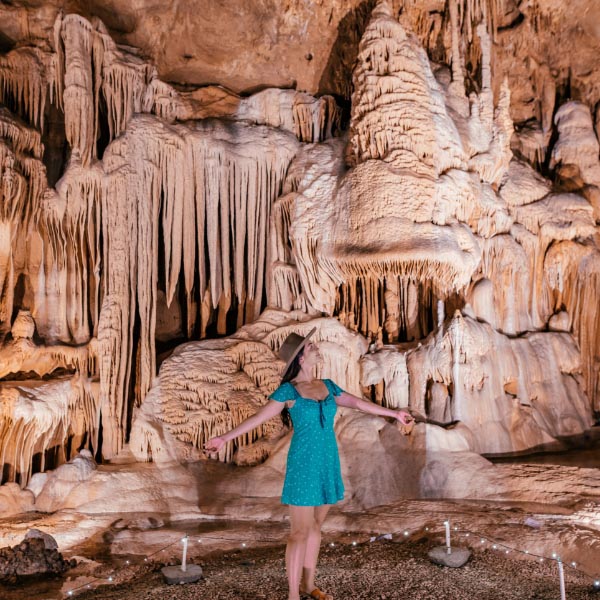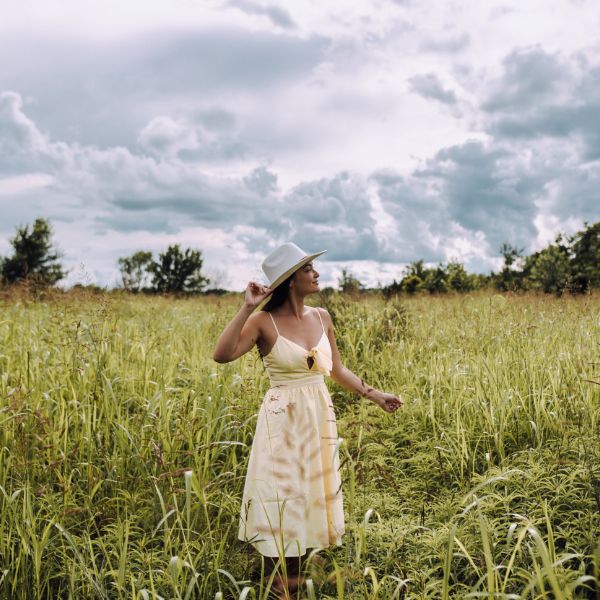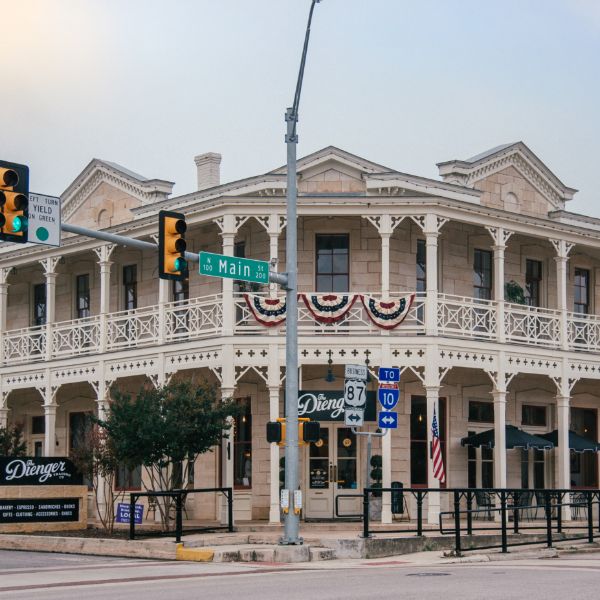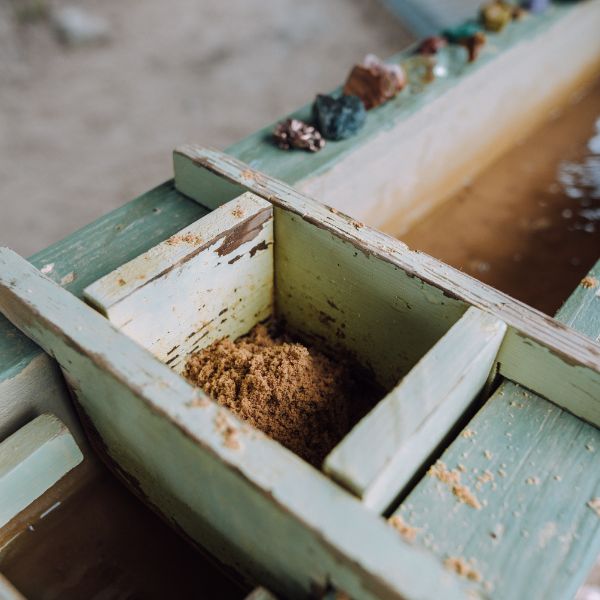 One of the coolest experiences we had in Boerne was visiting Cave Without A Name. Curious about the name? According to our tour guide, when there was a contest to name the cave, a little boy said it was too beautiful for words, and the lack-of-name stuck.
And it rings true! Not only are the cave formations incredible, but you get to explore in a small group setting, which means you can ask all the questions you want. After the tour, we tried our hand at gem panning. You purchase a sack of dirt and essentially sift it to find the gems. We had so much fun doing this and brought a sack full of treasures home with us, including two geodes!
Next, we stopped at the Cibolo Center for Conservation, an educational center and wildlife park that connects people to nature through hands-on activities. It had been a very full day of exploring, so we capped it off by returning to The Bevy for a fun dinner and live music followed by a very relaxing night's sleep.
Bandera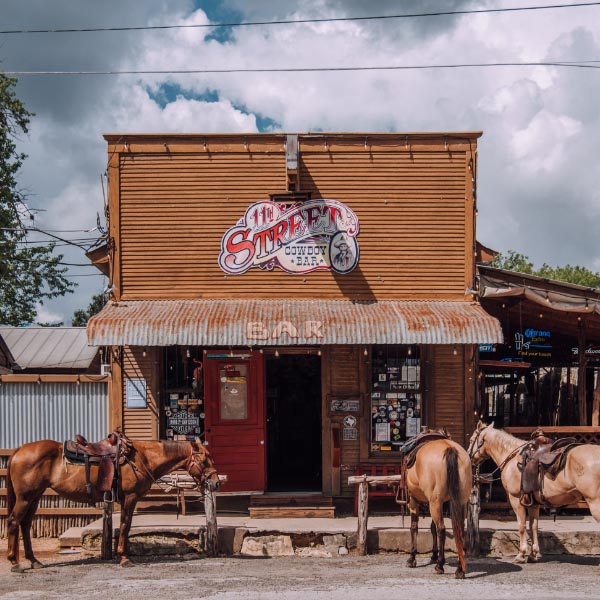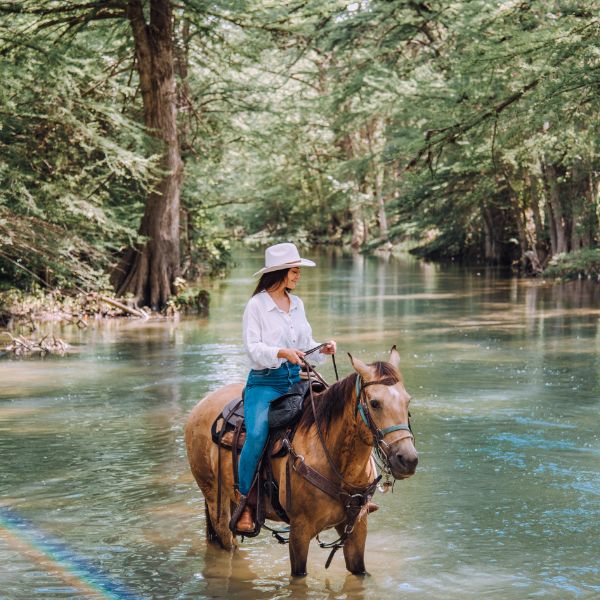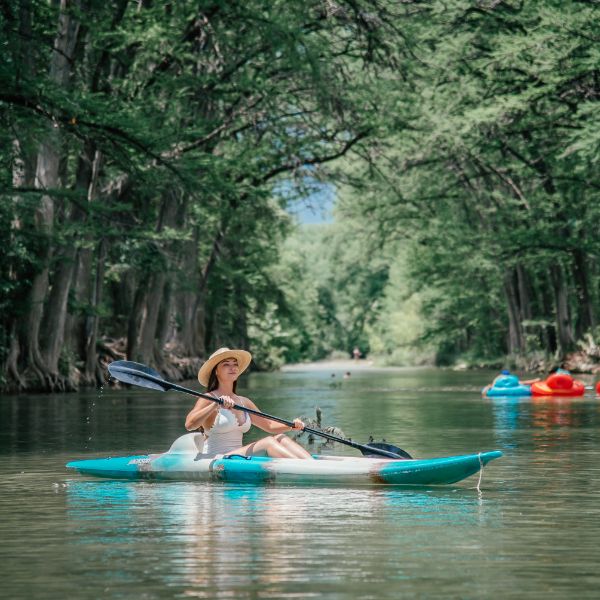 For our last full day in the Texas Hill Country, we headed to Bandera, the "Cowboy Capital of the World." We got to experience that role firsthand as we rode horses along (and even through) the Medina River and then into town with Bandera Historical Rides. I felt like a true cowgirl riding my horse, Bubba, right up to the 11th Street Cowboy Bar!
The Medina river looked too refreshing to resist, so after giving Bubba a farewell pet, we headed back to try kayaking, courtesy of the Medina River Company. If you're looking to swim instead of kayak, the best place to do so is at Bandera City Park—there are several rope swings you can use to swing out and jump into the water!
Castroville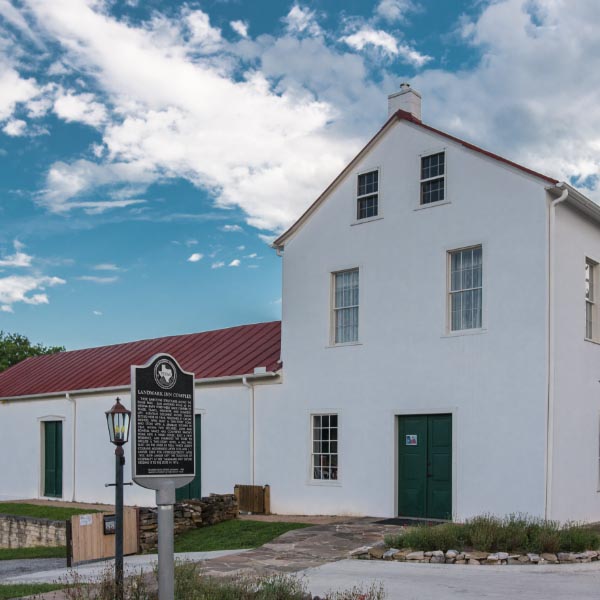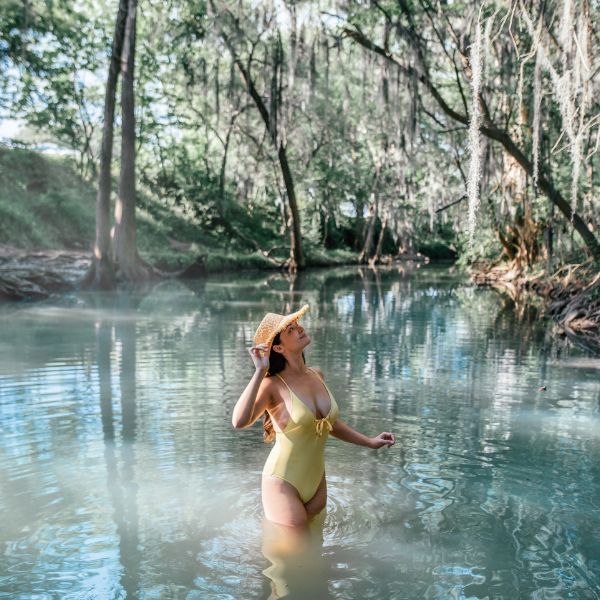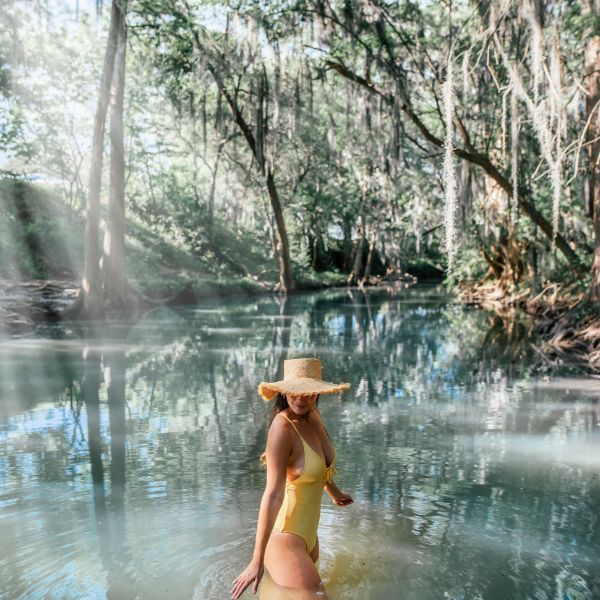 Our whirlwind journey was at an end, and our final town was Castroville, a Preserve America City where heritage and Texas flavors run deep. My favorite part of our visit? I was once more drawn to the Medina River, and we went swimming at Castroville Regional Park. There's a section of the river here that feels like something out of a storybook. We waded upstream to a calmer section of the river to get a photo of this dreamy area—it was just too beautiful not to capture on camera.
For dinner, we ordered the sampler platter from Paris St. Po'Boys, a Cajun-style restaurant where we sampled mouth-watering fried shrimp, catfish, and oysters. Our last night in the Hill Country was at The Landmark Inn. The inn is in Historic Castroville, which has been around since the mid-1800s. The Inn was constructed just a few years after the town was founded by Henri Castro and 50 men in 1844. Staying somewhere so historic was the perfect way to wrap up our Texas Hill Country trip.
I felt like we got to experience a bit of everything on this trip: learning about the area's history, swimming in the rivers, going kayaking and horseback riding, exploring caverns, hiking Enchanted Rock, and more. I've said before that I think this is the prettiest area in Texas, and our trip with Texas Hill Country Trails through these seven lovely towns just confirmed it all the more!